Summary
Date
19 April – 5 May 2019
Teacher
Katarína & Václav
Venue
Chata pod Hrbom (Central Slovakia)
Cost
23€/night
(sponsored price available)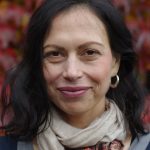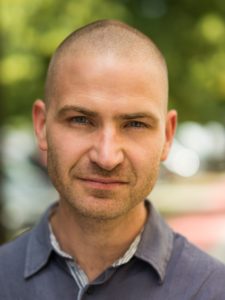 This course will be taught jointly by Katarína Bírešová & Václav Šmilauer − see about us.
May I come?
On this retreat of the Vipassana meditation, we welcome both beginners and those with prior meditation experience, irrespective of religion, gender or age (16+). Vipassana is a Buddhist contemplation method; however, one does not need to be Buddhist (or have knowledge of Buddhism) to fully benefit from the meditation; in fact most course participants are not.
We recommend to go through the whole course to gain the full benefit. It is nevertheless possible to come for a shorter time (at least 4 nights) as the course proceeds on individual basis.
The number of participants is limited to 15, due to the individual approach of the course and capacity of the facilities.
Course
All participants are given detailed introduction into meditation at the beginning of the course.
The course is organized around directing attention inwards as much as possible. Participants sleep 6 hours a day, breakfast is served usually 6:30, lunch at 11:30. The rest of the time is dedicated to the practice with short breaks between "rounds" (walking+sitting meditation). The course is conducted in silence (and off-line). Whatever happens during the day can be discussed with the teacher at daily individual meetings; however, teachers are available 24/7 if needed. The teachers might adjust the regime individually if necessary (e.g.due to medical conditions).
Participants follow traditional 8 precepts which support meditation by eliminating distractions and make it easier to share space with others: no killing, stealing, sexual activities, lying, intoxicants, eating after lunch, entertainment (reading, writing, singing, music, yoga, phone, internet, …) & cosmetics, luxury.
Food is vegetarian; snacks are served in the evening (youghurt, fruit juice, piece of cheese). Water, teas and coffee is available all day round.
The accommodation is individual by default. In the (rather infrequent) case of capacity exhaustion, we will try to find solution which works for everyone.
Participants can be contacted by their families in case of emergency through organizers.
Venue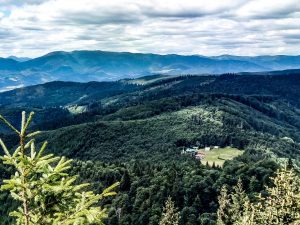 Chata pod Hrbom (Chalet under the Hrb peak, 1087m a.s.l.) is a secluded accommodation facility with long tradition of hosting meditation and yoga retreats.
The closest city, and larger train/bus station, is Banská Bystrica (airports around: Bratislava, Wien, Budapest) , closest local stops are Lučatín and Ľubietová respectively for local trains and buses. For the first day, we will be picking a group of meditators in Banská Bystrica at the station; we might arrange the same for the last day as well. We will help you arrange transport and, if needed, pick you up at a suitable place.
It is possible to reach the place via forest road with a regular car (see below).
The whole course will officially start on Friday, 19 April (public holiday, Easter Friday) at 1 p.m. and finish Sunday, 5 May after breakfast.
Access to the chalet
If you travel by car, the chalet is reachable from Ľubietová by regular road car (no 4×4 needed) following the blue hiking trail 2624 starting in Ľubietová in the village center:
In the very last part through the forest, the blue trail takes some shortcuts and the cycling trail 5551 should be followed instead:
Cost
Accommodation and food cost 23€/night (20€ goes to the guesthouse, 3€ helps us cover other expenses). A deposit of 120€ (less if you come for a shorter time) is payable in advance by bank transfer, the rest at the start of the course (transfer/cash).
If the accommodation price is prohibitive for you, you are welcome to contact us and we will try to offer you something you can afford, and have the rest paid by sponsors. If you can pay more, thus becoming sponsor of others, you are the most welcome to do so.
Teaching itself is on a donation basis (dāna), following the tradition that meditation should be accessible to anyone. Donations can be given in cash at the place, or by transfer.
What to bring
loose comfortable white/light clothes (by tradition) or neutral colors, covering shoulders and knees;
warm socks for inside; also take warm clothes (like jumpers, long sleeve shirts, …);
slippers;
toiletries (toothpaste, shower gel);
(alarm clock/timer we will have enough to borrow; note that using phones is not possible);
optionally your favourite tea/coffee, cushion, blanket;
flask (thermos) for hot water (for colder weather);
course fee (minus deposit) in cash, or send it in advance by bank transfer;
cash for donation for teachers after the course; bank transfer will be also possible;
any medication you take or might need.
your own towel (not provided!)
How to register
Please do not hesitate to contact us with questions before you make decision. The registration procedure is easy:
Inform us about your intention to come.
We confirm space availability.
You transfer the deposit and fill registration form.
We confirm the reservation.